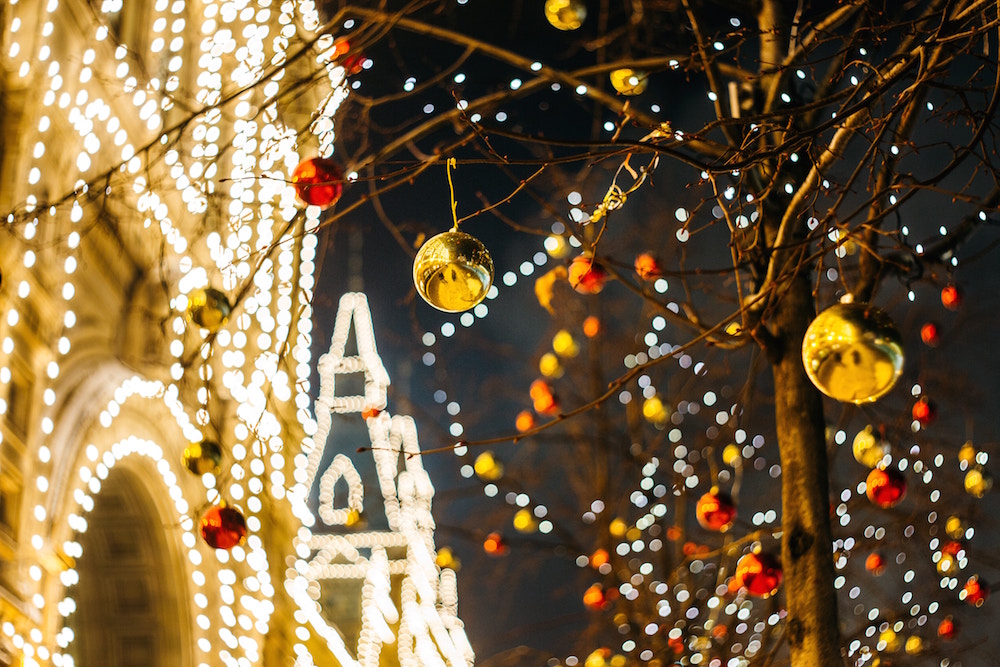 10 Inclusive School Decorating Ideas to Jingle Into Christmas
"Ambiguous" guidelines have caused confusion in recent years about the place of Christmas celebrations in secular and state schools. Education Departments, however, maintain that schools should celebrate the diversity and traditions of Australian society by participating in a range of Christmas activities, as well as learning about other cultural and religious celebrations to create a successful multicultural society that promotes respect, empathy, inclusion and diversity.
If your school has chosen to celebrate Christmas this year, try these 10 school Christmas decoration ideas that the entire student community can get involved with.
1. Decorate Classroom Doors
Imagination is the only limitation to transforming classroom doors into colourful Christmas displays, such as ginger bread houses, winter wonderlands and reindeer stables.
2. Add a Wreath to the School Lectern
Invite students to participate in a wreath making exercise using native Australian flowers, gum leaves and wattles, then take a vote on the best wreath to be featured front and centre on the school lectern. This DIY Australian Christmas Wreath Tutorial from Interiors Online provides a step-by-step guide for students to create their own Aussie-inspired school Christmas decoration they can take home to display at the end of term.
3. Add Fairy Lights to Fences, Trees & Directional Signs
While students and teachers might not be on campus after dark, fairy lights can draw attention to the school over the holiday period and catch the eye of new parents in the area. Adding Christmas lights to directional signs and lining footpaths with fairy lights for graduation ceremonies will also help relatives and friends find their way to the auditorium on time. Bunnings has a huge range of festive lights, from elegant Paper Star LED Lanterns to Solar Net Lights, ideal for decorating shrubs and trees.
4. Apply Christmas Window Vinyls & Wall Decals
Christmas window vinyls and wallpaper designs are a subtle, space-saving school Christmas decoration that can be added to any window or wall where larger decorations may be unsafe or impractical. Students can also make their own simple window stickers with little more than cookie cutters and food colouring.
5. Display a Christmas Countdown on Mobile Signs
Who doesn't love a countdown!? Dress up your street signage with Christmas stockings, tinsel and baubles to let the community join you in the countdown to end of year celebrations.
In addition to using changeable signs, like kerb talker signs and A-frame signs, you can also add a digital Christmas countdown to the school website using a variety of widgets that can be easily embedded on your site.
6. Project Christmas Lights on the Front of School Sign
The LED Rotating Light Show Projector from Bunnings is perfect for projecting an animated Merry Christmas message and coloured snowflakes onto your front of school sign. It creates an eye-catching display that can be viewed throughout the school holidays and can be easily packed up to use again in next year's celebrations.
7. Build a Library Book Tree
Follow the lead of library staff at James Cook University in Cairns and create a Christmas tree out of books. To further entice students into the library, they ran a competition for students to guess the number of books in the Christmas tree.

8. Decorate School Notice Boards
A few sheets of coloured cardboard and you can create an elaborate Christmas-themed school notice board that students can help design and create. For more inspiration, check out Best 25+ Christmas bulletin boards ideas on Pinterest.
9. Host a Gift Collection Drive
Beneath all the sparkle, glitter and jingle of Christmas is the tradition of giving. And what better way to decorate your school with colourful Christmas gifts than to host a Smith Family Gift Collection? Setup a tree in the school office or other secure, monitored location and encourage students to donate toys and books for disadvantaged children.
Register online to receive a digital introduction pack, check out these not-so-boring marketing ideas for promoting your school fundraiser and invest in a fence banner which can be used each year to promote the drive to the wider community.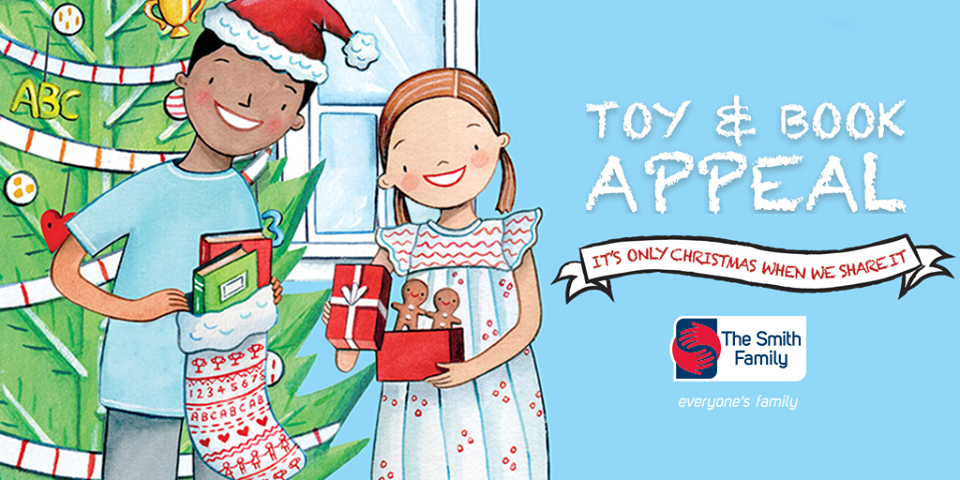 10. Display Christmas Jokes on Digital Signs
When students are dragging their feet through the end of term four and you need to boost school morale, displaying short, punchy (often cringeworthy) Christmas jokes on digital signs can help lighten the mood.  Jokes4Us have a great collection of Christmas-themed funnies to choose from, though some are more appropriate for the staff room than the playground.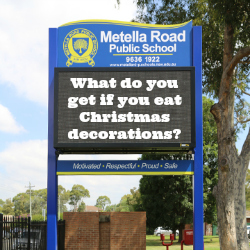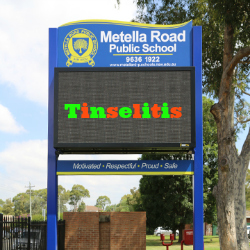 Get a free Signpac quote on digital signs to bring in the new year.
Get Help With School Christmas Decoration Signage Solutions
We'd love to hear your school Christmas decoration ideas. Head over to the Signpac Facebook Page and leave a comment!
If you need help with signage solutions to compliment your school Christmas decorations or it's time to upgrade your school notice boards, portable KERB talkers or digital signs to start 2018 with a fresh new school image, get in touch and we'll arrange a quote within 48 hours.
Call 1800 140 940 or send us a quick message here.